Grilled shrimp with cilantro salsa Verde: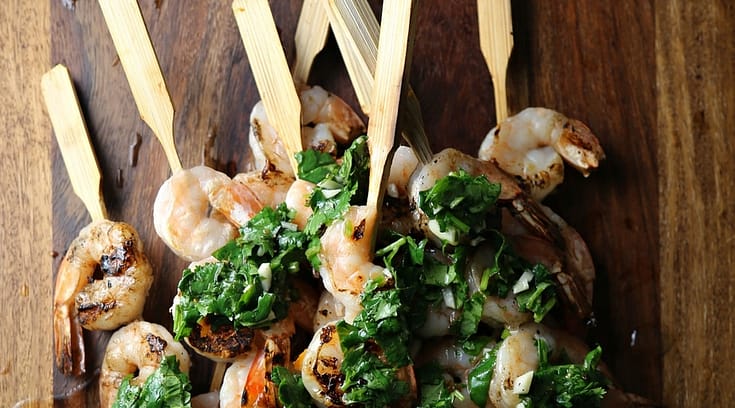 Ingredients
1 cup fresh cilantro leaves and tender stems, coarsely chopped
¼ cup fresh flat-leaf parsley leaves, coarsely chopped
¼ cup lime juice
¼ cup olive oil
2 cloves garlic, halved
½ tsps. salt
¼ tsp. black pepper
1-pint grape tomatoes, halved
1 15-oz. can no-salt-added white beans, rinsed, and drained
1 ½ cups seeded and chopped cucumber
1 lb. fresh large shrimp in shells
Instructions
Salsa, combine cilantro, parsley, lime juice, oil, garlic, ¼ tsp. of salt, and the pepper. Cover and process until herbs are finely chopped. Remove ¼ up of the herb mixture to a medium bowl. Stir in tomatoes, beans, and cucumber.
Peel and devein shrimp, leaving tails intact if wished. Rinse shrimp; pat dry. Thread shrimp onto four 12-inch skewer, leaving ¼ inch between shrimp. Sprinkle with the remaining ¼ salt.
Grill shrimp skewer, cover, over medium-high 4 to 6 minutes or until shrimp are opaque, turning once. Serve shrimp skewers with salsa. Drizzle with the reserved herb mixture and sprinkle with additional cilantro.